Today is Pentecost. The story that any of us who grew up in the church will likely associate with those photos of cartoons with fire above their heads, or crafts involving glue sticks and plenty of tissue paper (or popsicle sticks, as all the best are).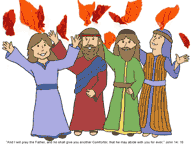 Over the years, I've been to plenty of different Pentecost services - some done really well, some less so. My favorite, of course, will have to be the
Sweaty Sheep
service that included water balloon fights, liturgical dancers and communion using breads and foods from all over the world.
Today, Fortwilliam and Macrory had a guest preacher, the Rev. Dr. John Dunlop. His message addressed waiting: how none of us like to wait, but when the thing that we are waiting on is the Spirit of God, we can't move forward without it. He focused on the diversity of the crowd gathered that morning, waiting together, gathering in God's name. All of those different gifts, opinions and personalities in one place. Each person gathered in that room was unique, but they all had names. They were all touched by the Spirit.
This message reminded me of the YAV program, which is appropriate since much of the funding for this program comes from the
Pentecost Offering
. We are young, we are exuberant, and we are sent out in the name of God despite our differing gifts, opinions and personalities to join in the celebration of the global church.
Pentecost is being celebrated today across the world in a vast array of cultures and languages, and my fellow YAVs are there: in Guatemala, in Kenya, in Tucson, in New Orleans and so many other communities. Learning, sharing and growing with others because of our shared purpose.
In the spirit of this global sending, I ask a favor: if the Pentecost Offering is not taken in your church, click the link above or text "young" to 20222 to give $10 to the PC(USA). To fund this program more directly, there are still a few NI YAVs who need a little help with their fundraising requirements. Please consider a donation in honor of Pentecost to
Kathryn
, who is doing great work this year at the
East Belfast Mission
.
For those interested in learning more about the YAV program, please visit
http://www.presbyterianmission.org/ministries/yav/
.